דברי הנשיא בביקור נשיא ארצות הברית ג'ו ביידן – קבלת פנים בבית הנשיא
מילות מפתח: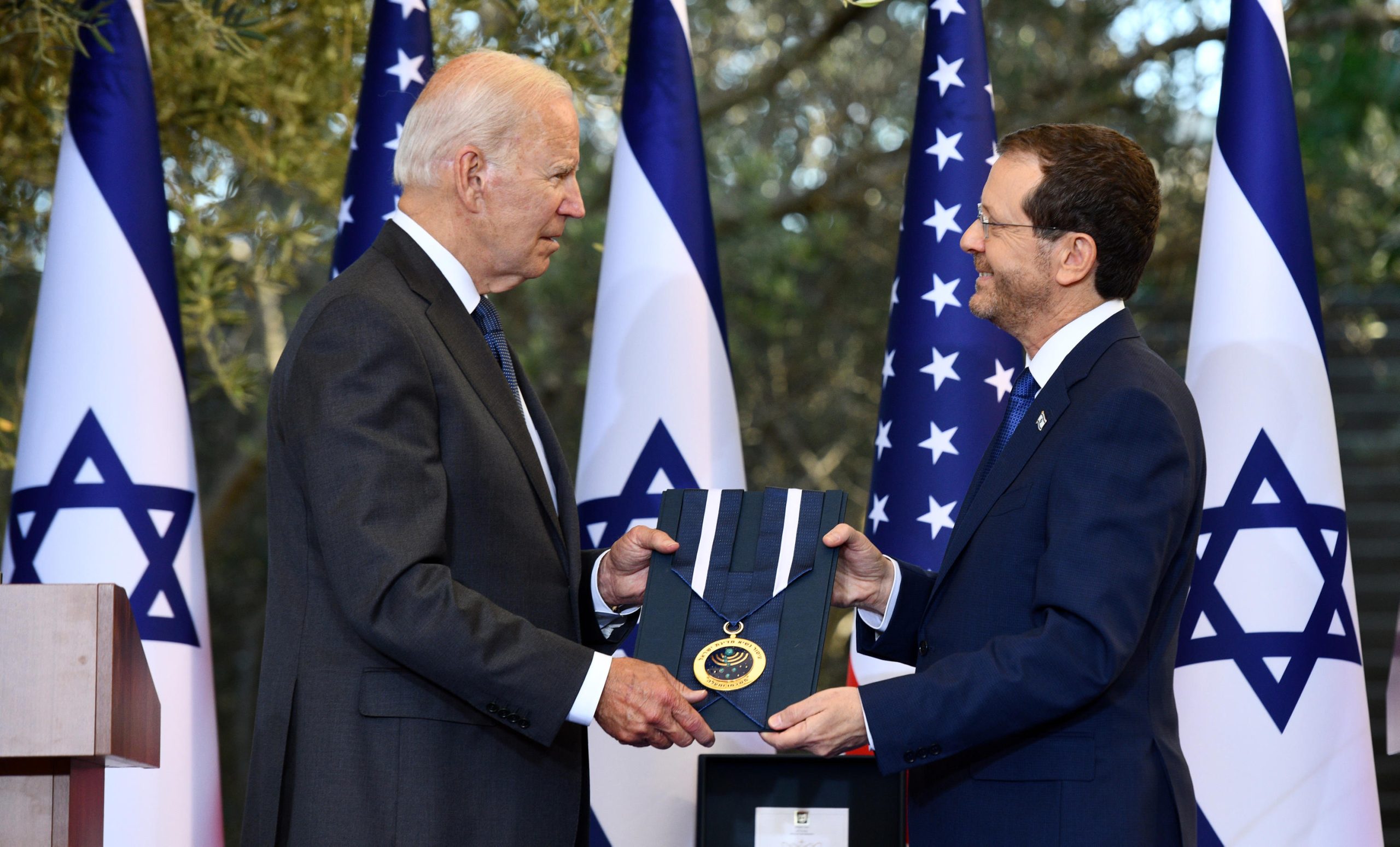 The Honorable Joseph R. Biden, Jr., President of the United States of America, His Excellency Yair Lapid, Prime Minister of the State of Israel, Distinguished delegations, Honored guests, Mr. President- You are the fifteenth consecutive American President with whom my family has had the privilege of engaging- FDR was the first.
I am delighted to host you here, in the heart of Jerusalem. As I said yesterday- Mr. President, this is a visit amongst family and old friends. You have been a faithful, lifelong friend of the State of Israel and the Jewish People. Your tireless advocacy of the enduring US-Israel partnership, in word and in deed, has truly withstood the test of time.
Your journey of peace here in the Middle East comes at the pivotal hour of a challenged world order. The aftershocks of the pandemic are colliding with tragic war in Ukraine, while extremism displaces dialogue, as our planet runs out of time. I believe that a strong and vibrant US-Israel partnership has seldom been more critical to our countries, to the Middle East, and to global stability and sustainability, peace and prosperity, democracy and decency. Since its establishment, the State of Israel has been a vibrant democracy- בהומור: -at times too vibrant! We are a diversified society, encompassing Jews and Muslims, Christians, Druze, Circassians (צ'רקסים) of all denominations and beliefs– some of their distinguished representatives are here with us today. We also are so proud that ambassadors from all Arab countries that have signed peace accords with Israel are present here today.
Mr. President, A strong and secure nation state of the Jewish people in the Land of Israel, is critical to the safety and future of the Jewish People. And now, we have the opportunity, thanks in large part to the support of your administration and the Abraham Accords, to envision one step further. Together, we can create not only a new Middle East- but a Renewable Middle East: a regional ecosystem of sustainable peace. Under your leadership, we can continue transforming our region from a source of global tension- to a source of global stability and progress. The Middle East can grow into a meeting point for climate innovation and combined medical research, clean energy and peaceful exchange among faiths and peoples. This is the blessing you will bring in the coming days to your meetings in Riad. Just as we are united in promoting peace and cooperation in the Middle East, we are united in our opposition to Iran's terror and drive for a nuclear weapons capability, which is the greatest threat to this region- and perhaps the world at large.
We know the United States is committed to Israel's security, as you have reiterated throughout this visit. This was underscored in the important Jerusalem joint declaration which you and Prime Minister Lapid agreed upon today– echoing your own ironclad, unshakeable commitment to Israel's security and wellbeing.
I commend your administration's crystal-clear moral stance against all forms of anti-Semitism and delegitimization of Israel around the world. Thank you for always standing by us.
Mr. President, in our private meeting moments ago, I handed you a document found in our National Archive: The minutes of your meeting with Prime Minister Golda Meir nearly 50 years ago, which you often recount with fondness: What is interesting is the reflection of the Israeli diplomat who wrote the minutes, and added the following concluding remark" …:the senator was full of respect and admiration for the Prime Minister and repeatedly said that he had come to learn, but, on the other hand was carried away by his enthusiasm…"
President Biden, your great enthusiasm remains the same- and we all feel it here. I thank you for honoring us with this important visit which means a great deal to the people of Israel. We wish you great success in your regional visit and your historic trip tomorrow, from Israel to Saudi Arabia. May it bring a message of peace and hope for all peoples of the region. And finally, Mr. President: You say – God Bless America. We say, in our prayers: " "השם עוז לעמו יתן, השם יברך את עמו בשלום" The Lord will give strength unto His people; the Lord will bless His people with peace. I say to you, my dear friend- "The Lord will give strength unto our peoples; the Lord will bless Our Peoples with peace. ה' עוז לעמינו ייתן, ה' יברך את עמינו בשלום.