דברי הנשיא בועידת האקלים במצרים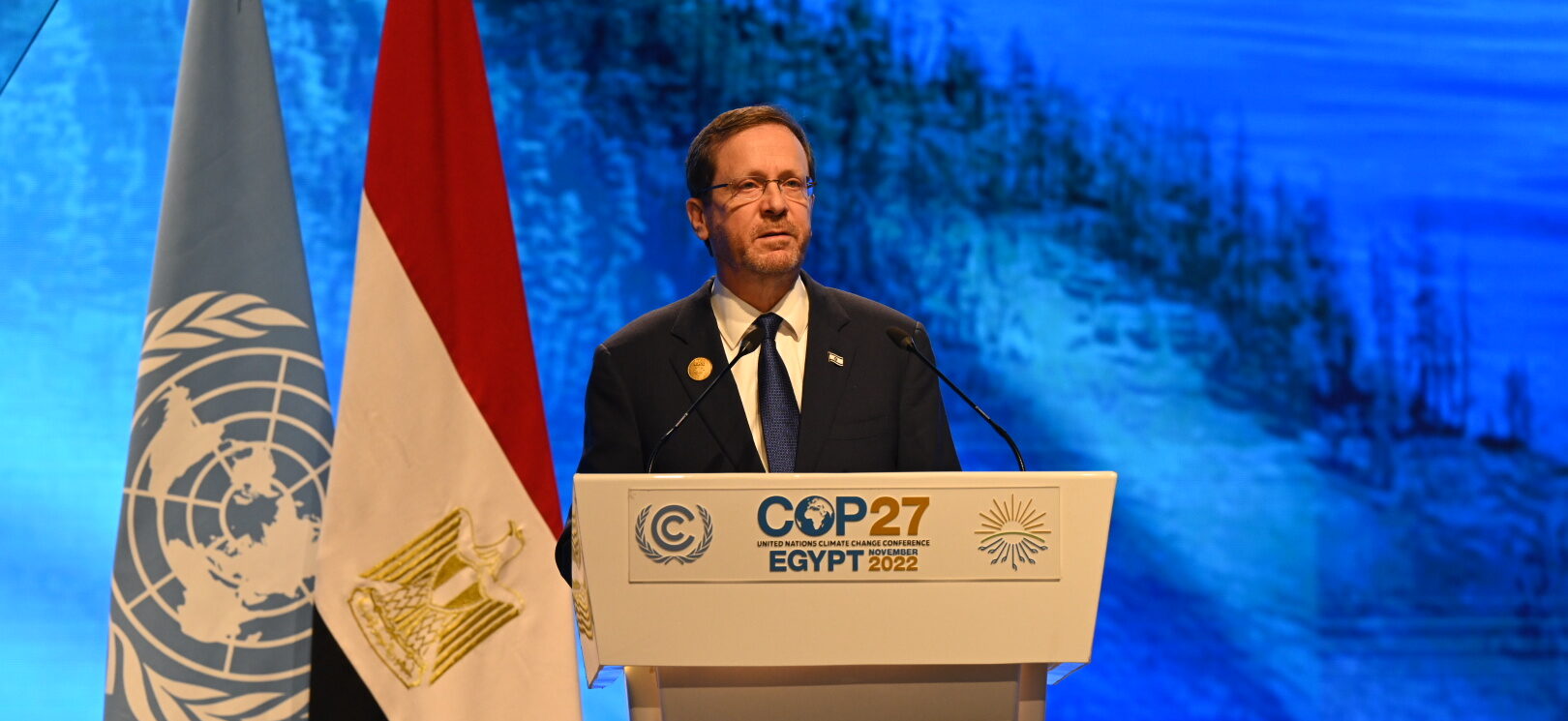 I am honored to join world leaders and distinguished delegations from across the globe at the COP27. I thank the President of the Arab Republic of Egypt His Excellency Abdel Fattah El-Sisi and his government, for hosting us here in the beautiful Sharm El Sheikh.
As neighboring nations in the Middle East, Israel and Egypt are both fortunate to call this beautiful region 'home'. However, this home we all love is also a global hotspot for climate change. With studies forecasting severe consequences for our region such as drastic rises in temperature, significantly depleted precipitation, intensification of floods, downpours and heatwaves, and a rise in sea levels— the Middle East is on the brink of catastrophe. I wish to reiterate the State of Israel's solid commitments to achieving net zero carbon emissions and to transitioning from fossil fuels to renewable energy, by 2050. But Israel is prepared to assume far greater responsibility.
In a region undergoing accelerated desertification, Israel has the capability and know-how to deflect severe water shortages and to offer solutions to food insecurity. Israel's experience in regenerative agriculture and alternative protein development; In water desalination and wastewater treatment; In technologies forecasting climate threats and long-term ramifications— these are all practical tools which Israel is eager to share. I am carving out a vision to export the solar energy created in the deserts of the Middle East— to Europe, Asia and Africa. By using the electricity corridors already in advanced development by Greece— Israel, Egypt, Jordan and Saudi Arabia can connect the rest of the world to a magnificent source of renewable energy. By trailblazing this regional climate resilience, Israel is prepared to play a leading role in establishing what I term a Renewable Middle East— a regional ecosystem of sustainable peace.
I say to all nations at the COP27 and particularly to our neighbors, near and far: There will be times to disagree. But this state of emergency demands we join hands and work together. Not tomorrow- right now. Let us leverage vital regional partnership as a path towards inclusivity, stability and prosperity, to form this shared, Renewable Middle East. Let us turn the climate emergency into an opportunity to set aside 20th Century conflicts— for desperately needed 21st Century collaborations. This crisis threatens the very existence of the future we wish to provide our children. It transcends politics and geographic margins— and so must we.
To quote an ancient Arab proverb': People are not helpless— if they work together'.
لا يعجِزُ القوم إذا تَعَاوَنُوا
And as we read in the book of Genesis:
"ויקח יהוה אלוהים את- האדם ויניחהו בגן עדן
לעבדה ולשמרה"
Let us save the world God gave us, for we have all been created in His image. Thank you.