דברי הנשיא בכנס ארגון הבריאות העולמי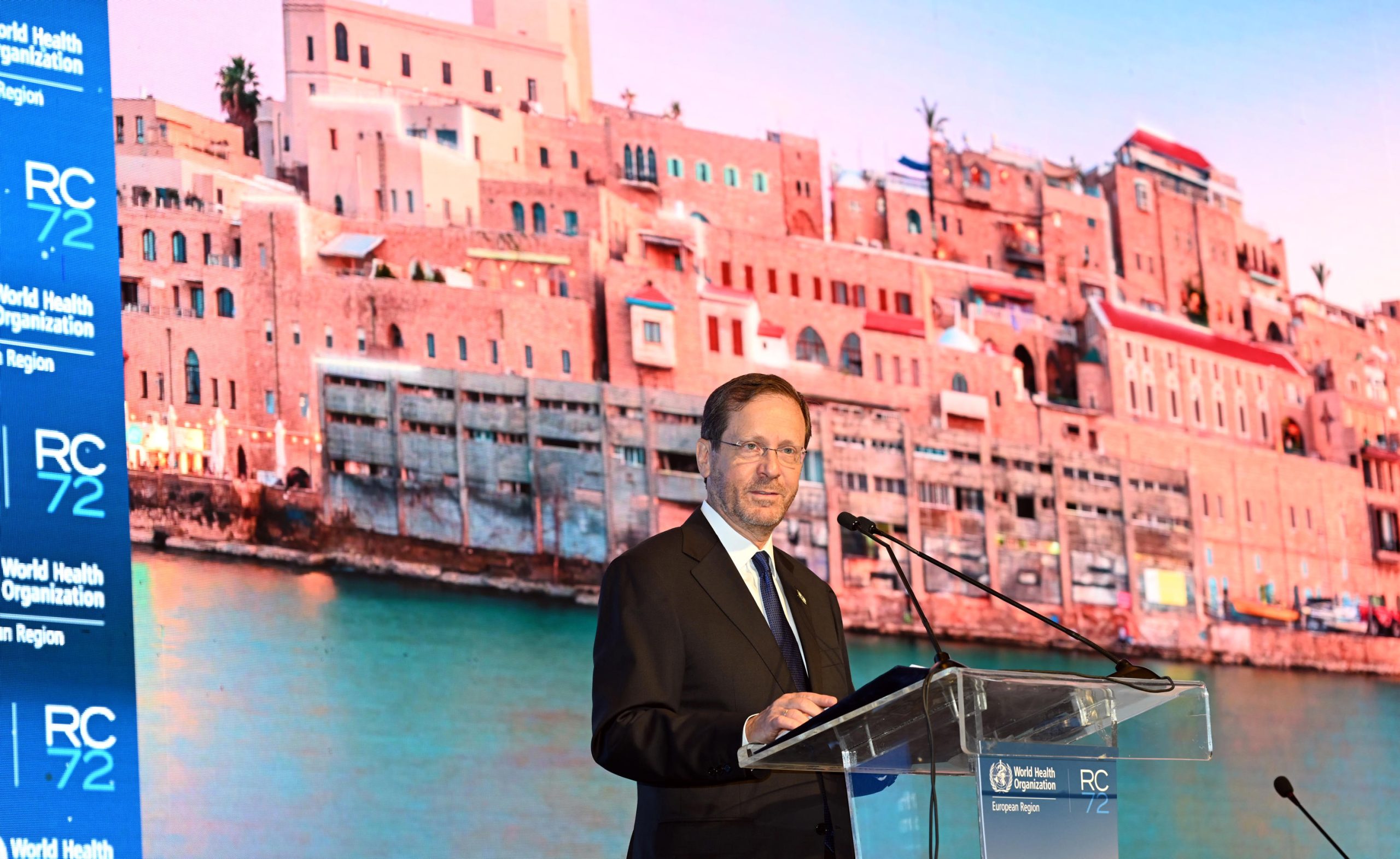 It is a great pleasure to welcome all of you to Israel, and to open the Seventy-Second Session of the World Health Organization Regional Committee for Europe. Opening this session in the presence of Director-General Dr. Ghebreyesus and Regional Director Dr. Kluge, is an opportunity to praise the outstanding work of the WHO over the past two and a half years. The leadership and staff at all levels were thrown into a warzone, and took charge of an impossible situation- for this I thank you all.
I would add that my late aunt, Pnina Herzog, served as vice chairwoman of the WHO Executive Board, and for many years represented Israel in this important forum, and so I am honored to address you this morning. I am especially mindful that this RC72 is the first regional governance session being held in person since COVID-19 swept through our lives– obliterated any ongoing agendas, remodeled social behaviors, transformed the healthcare profession. Since the moment we learned of the pandemic, virtually all global focus and resources— whether physical, mental, spiritual or social, were diverted. This RC72 is one more indication of normalcy: here we are, so let's get back to business.
Indeed, the challenges that will be discussed here over the coming days are critical for any life -seeking community. And yet- as we drill down into behavior and culture-based health promotion, into digital health, or into access to affordable medicines— I urge us all not to hasten to declare normalcy. Rather, I believe we must thoughtfully reflect on this vulnerable moment in human history and human health. Because the pandemic has left so many of us bewildered, taken aback, traumatized. Because its impact on our collective psyche is ever-present. Because its long term effects on global mental health are just barely surfacing, and it is clear that these effects must be placed front and center, researched in every WHO member state, studied in depth.
I believe it is our duty to find the words to understand what we have undergone, and to develop the tools with which to process and heal, truly heal, from this virus. We must recognize that until the pandemic is over for all of us it is not truly over for any of us. We must also recognize that while our medical organizations and professionals preformed in an exemplary fashion- we know that the next global health crisis is right around the corner. And so- to quote Albert Einstein, "a new type of thinking is essential if mankind is to survive and move toward higher levels."
Let us prepare by implementing new types of thinking; by harnessing the power of cutting- edge technologies to protect and heal; and most importantly- by enhancing international collaboration. On our part, The State of Israel is committed to working closely with the WHO towards enabling humanity to meet the many challenges we face.
Although Israel is a small country with few natural resources, we are blessed with phenomenal human resources. These have enabled Israel to grow and to thrive, leaning on our commitment to scientific excellence and innovation, as well as a spirit of social solidarity and equality. This resourceful mindset informed with collective responsibility, resulted in the implementation of universal healthcare based on a highly-interconnected healthcare system. Israel's vast experience facilitated our successful battle with COVID, as we became world leaders in administering vaccines to all eligible populations.
Remember that in Israel every child, Jewish or Arab, secular or ultra-Orthodox, of every sector and persuasion, living in the desert or the city, is equally entitled to the very best healthcare, adapted to their cultural context and need.
Israel is also home to countless trailblazing med-tech and health-tech start-ups, pushing the bounds of human imagination. Together with European and international institutions, we can develop the breakthroughs that will enable people to live healthier and longer lives. In this vein, I am happy to announce that Israel will be working with the WHO to establish a cutting-edge center for digital health, bringing top-quality and innovative care to every corner of the world.
It must also be said, that the biased and politicized resolutions singling out Israel, passed every year at the World Health Assembly- must end. Such resolutions, based on falsehoods and ulterior motives, damage the work and reputation of this body, bwhile negatively impacting on health cooperation in the region. Health must be above politics, while serving as a bridge to mutually-beneficial cooperation and exchange, that enhances quality of life for all. Let us embrace the new spirit of peace sweeping through the Middle East, following the historic Abraham Accords. Israel will continue to offer support and aid to neighbors near and far, extending its hand to all, in partnership and collaboration
I wish you all a successful and fruitful session in our beautiful country. Let us work together, to learn and share insights, to implement the WHO European Program of Work, to reach the Triple Billion Targets, and to improve and save lives around the world. Thank you very much.