דברי הנשיא בכנס הבינלאומי על שם הנשיא חיים הרצוג, בנושא תפקיד המשפט בחברות מגוונות
מילות מפתח: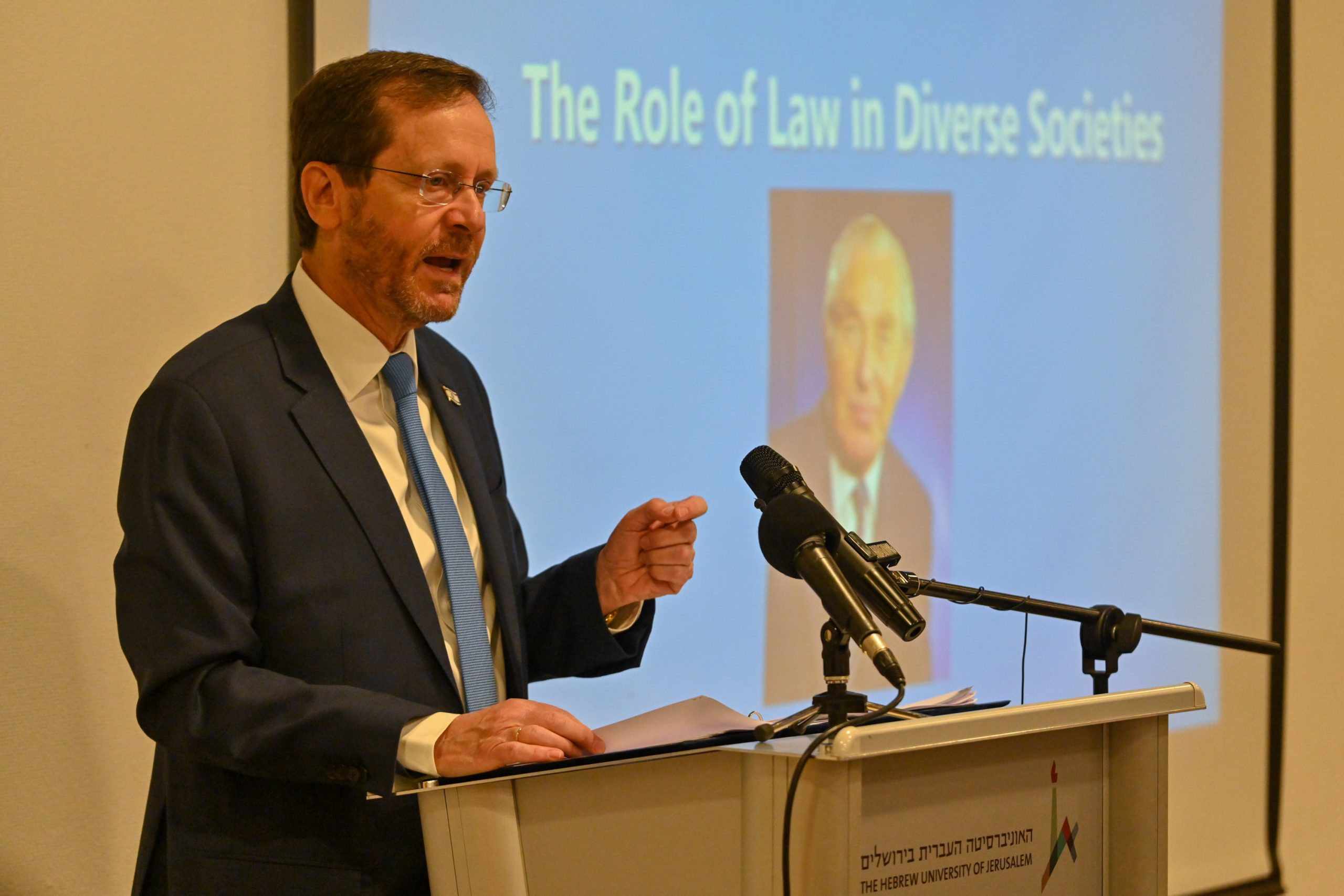 It is a sincere privilege for me to open the inaugural President Chaim Herzog Conference, here, at the Law Faculty of The Hebrew University of Jerusalem.
I want to thank The Hebrew University, and especially its Faculty of Law, and the Center for the Study of Multiculturalism and Diversity- the first center of its kind in Israel- for hosting this significant and very timely event.
The Hebrew University Faculty of Law has long been at the forefront of Israeli society in virtually every discipline, including the shaping of Israel's legal institutions, culture and character. It has educated so many of our leading jurists, legal experts, civil servants and political leaders.
This conference, being held this year for the first time, highlights The Hebrew University's central role in addressing our society's most burning challenges.
I would like to acknowledge the Herzog Law Firm, aka Herzog, Fox, Neeman. The firm founded by my late father together with Michael Fox- who emigrated from Britain, and Dr. Yaakov Neeman- former Minister of Justice and Finance, is also the firm in which I held my own legal career, and is a key partner in this event. I thank Herzog Fox & Neeman Chairman- Meir Linzen, and partner- Yossi Ashkenazi.
Finally I would like to thank one particular faculty alumnus- my son Noam, currently a member of the Ministry of Justice, who was our family's representative in this beautiful commemorative enterprise.
I am so proud that the inaugural Chaim Herzog Conference is dedicated to the Role of Law in Diverse Societies. While my father was well-known as a statesman, military analyst, and defender of Israel on the battlefield and in the international arena, he saw the challenge of Israel's societal division and conflict as perhaps the greatest threat facing the state during his time as President. In 1991 my father told a European newspaper:"While our experience has taught us formidable resilience against enmity from without, we are still precariously vulnerable to divisiveness within."
He felt it was the role of the State and all its branches, to ensure that the unifying forces of social cohesion, overcome the hostile forces of political division. Indeed, for him, law was directly linked to multicultural diversity and dialogue from the very start of his legal career. My father began his legal studies at the law school established by the British Mandate in Jerusalem.
As he wrote in his autobiography, that British institution "was one of the only places where Jews and Arabs could intermingle with each other in a calm atmosphere, where they could learn from each other and teach each other."
He also noted humorously that from the students' point of view, there was another advantage to studying at a school with students and teachers who were Muslim, Jewish and Christian- they had a break from class on Friday, Saturday AND Sunday!
He fought in the British army, studied at Cambridge, and following an extended service in the Israeli military, in 1972 founded the law-firm of Herzog, Fox & Neeman. Later on he led Israel's just battles in the UN, and in 1983 began his decade-long tenure as Israel's Sixth President.
I have had the good fortune of being exposed throughout my life to a very diverse set of experiences, world views and value systems. I firmly believe in the deep, fundamental value of diversity, in the richness it offers and the perspective it provides. And just as diversity in one's personal life journey has the power to make a person more understanding, creative and whole, so too, diversity in a nation's journey has the power to make it more vibrant, tolerant and complete- as well as more original, proactive and groundbreaking. These are all phenomenal blessings!
That said, diverse societies naturally present many challenges as well. Transforming diversity into a positive force, is not automatic, nor self-fulfilling. In a society as diverse as Israel, the looming threat is that differences between individuals and groups will become a source of conflict, suspicion and zero-sum competition.
In such a society, the law is not, and must not, be a passive actor. The law must take a proactive stance in strengthening the common democratic framework, while making every attempt to protect the human dignity and defend the civil liberties of all groups, streams, genders, religions and individuals.
The legal system, and the norms, behaviors and mechanisms it creates, must provide a moral compass based on mutual respect, protection of human rights, free speech which does not cross the line into incitement, and shared responsibility for the stability, well-being, and flourishing of the citizens and the state.
The secret to Israel's survival and success, has always been our underlying solidarity and resilience on the one hand, and our commitment to our shared democratic system and values on the other. It is critical that we preserve these twin pillars and ensure that our diversity continues to be a source of strength, innovation and growth.
I thank Professor Barak Medina- Rector of The Hebrew University and himself an expert of Israeli constitutional law; Prof. Daphna Lewinsohn-Zamir- Dean of the Faculty of Law; And a special thanks to Prof. Netta Barak-Corren- who was chosen by the conference committee to organize this gathering, and managed to bring together experts from around the world to participate.
I thank the experts, as well as the young scholars, who have joined us. I wish you all a successful and productive conference, and look forward to seeing its results.
Thank you very much.