Excerpts from President Isaac Herzog's remarks at the Second Ashmoret Conference, January 24, 2023 (2 Tevet 5783)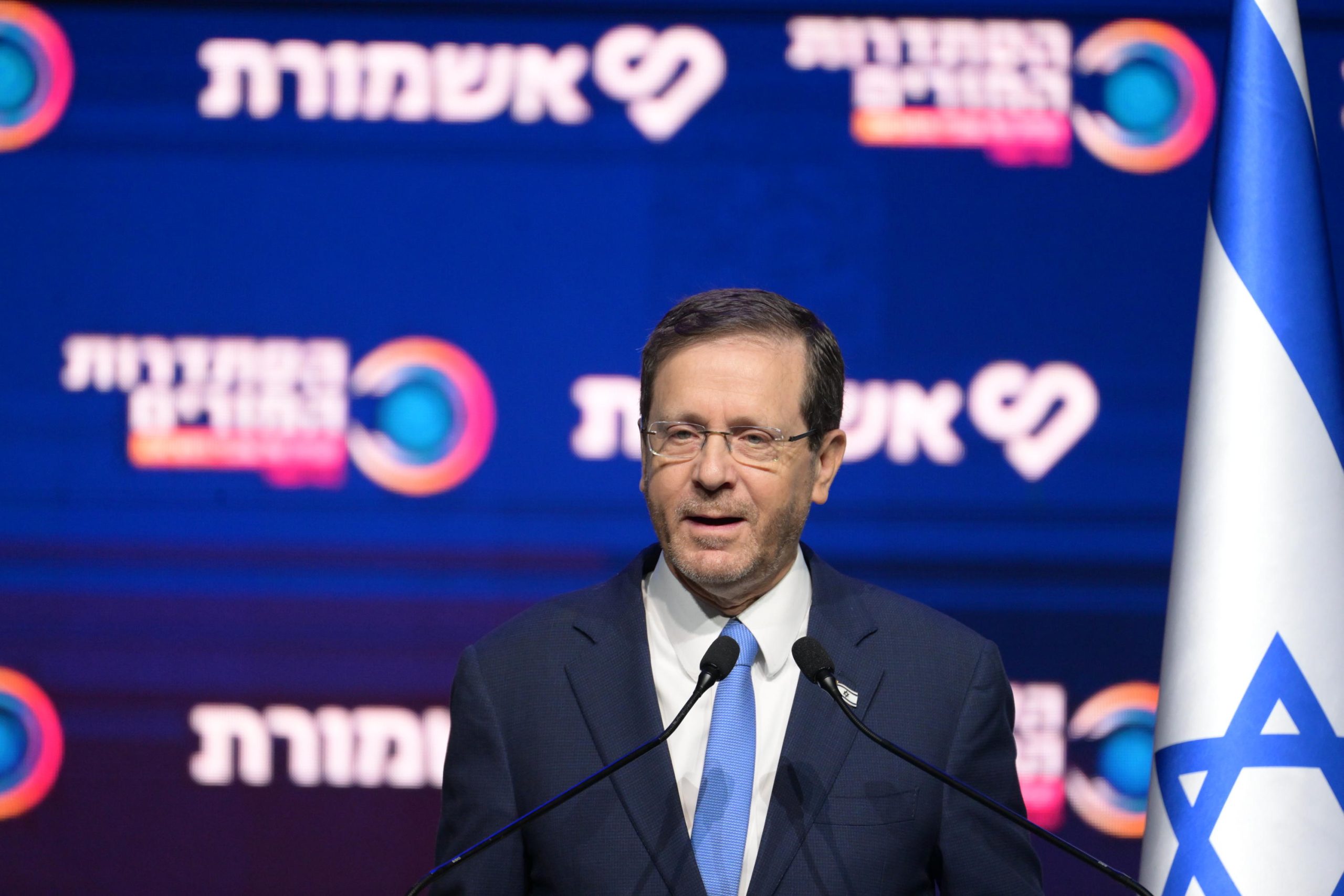 Over a year ago, I entered office as president of the State of Israel and embarked on a geographic, human, and social journey along the length and breadth of Israel. On this exciting, non-stop journey, every day, Michal and I have been meeting the sons and daughters of this beautiful land. All throughout, I have had a single date in mind: 2028 (5788)—Israel's eightieth year of independence. Our state's year of strength.
This journey has lifted my spirits and filled me with pride—pride in us, in what we have achieved as a society and as a state. Yet, in the same breath, with pain in my heart, I see the rifts and fissures among us deepening. And I cannot help but recall that twice in our history—during the Davidic kingdom and that of the asmoneans—a Jewish state arose in the Land of Israel, and twice it collapsed, before reaching its eightieth year
.
Let me forcefully emphasize: I am not a prophet of rage or doom. I never have been and never will be. I am a great believer in the resilience of the State of Israel and in the powers of the wonderful nation that dwells here. But none of this detracts from the fact that we stand before a fateful test, which will affect us all—our nation and our state. We must come to our senses, take responsibility, and protect what we have built here.
Numerous studies and policy papers in recent years have reflected the painful reality that we can all sense: the polarization in Israel is jeopardizing us. Most Israeli citizens believe that we are divided along national, ideological, and religious lines, and they sense that solidarity in Israel is fraying. A new lexicon of conflict has emerged here, a violent and hateful one; and lacking the means to handle disagreements with dignity, we have deteriorated into a situation that has seen a terrifying and dramatic leap in violence in the Israeli public sphere.
Over 10,000 cases of violence against medical staff were registered in the last four years, and over 3,000 files were opened over violence on the roads in the year 2022 alone! We, who have always been so proud of our cohesion, have become a country where citizens fear falling victim to some violent outburst in the public domain. Our difficulty— as adults—to handle disagreements is directly impacting our children, with thousands of violent incidents reported in schools in the past year. That's a rise of nearly 40 percent!
What else do we need to see to come to our senses? In all our years, the Israeli people have known how to overcome unbearably difficult challenges. This nation, pained and anxious in these days, has not lost hope. Most of us still aspire to live in a resilient and unified Israeli society. Seventy-seven percent of the public say that it is important to them that Israeli society be more cohesive, and three times as many Israelis are concerned by internal polarization as with external security challenges.
The conclusion is clear: we must take responsibility! We must remember the boundary between disagreement and hatred. We must remember that we share a homeland; we share a home. That our lives, our fates, and the future of our children are all intertwined.
The State of Israel can and must reach its eightieth year, a year rife with symbolism, more cohesive and less divided, in a place where it can address—and we can address—the disagreements within us without apprehension, so that we can grow from them, grow stronger.
A profound recognition of the immense value of disagreements "for the sake of the heavens" has been the foundation of our existence for generations, and is, of course, also a necessary component of democracy. But we must know how to manage disagreements, whether between individuals, between communities, and even between branches of government. And today, it seems that not only have we forgotten how to agree—we are not even capable of arguing!
The responsibility we bear is clear: a responsibility to listen to each
other's pain, to each other's needs and beliefs, and no less importantly, a responsibility to make our voices heard.
We must strive toward broad agreements, not toward subduing others Playing a zero-sum game will jeopardize all of us, because the person doing the attacking today will, in turn, be the one being attacked tomorrow, and vice versa, and thus neither side will gain consistent, enduring protection of its values.
We must regulate the borders of our disagreements, so that they can sustain us as parts of the same whole and allow us to write more and
more chapters in the inspirational collective story called Israel.
As I have said, I intend to continue addressing this burning issue—the Israeli culture of disagreement—hands-on , including by laying operative foundations through our program "Time to Talk," where we at the Office of the President are translating this concept and vision into effective, impactful tools.
Beyond my meetings with all parts of Israeli society, the President's Residence is establishing an innovative and rigorous center of activity, which will aspire to bring all communities in
Israel closer to their society and their state, and to facilitate encounters between diverse communities and lead them in dignified dialogue.
In parallel, the President's Residence is creating a space for special,
discreet conversations, where, along with leaders and key figures, and in a professional and in-depth manner, sensitive core issues will be, and are already, being discussed; issues that have the potential of leading, as they have in certain cases, to internal fissures and even violence within us.
The Office of the President is assuming a central role in creating solid foundations for a constructive and dignified Israeli culture of
disagreement. I warmly invite all of you to be partners in the mission that I have introduced here today, and to lead efforts that will blaze new paths for us toward a dignified Israeli culture of disagreement — which we desperately need.