President Isaac Herzog's speech at the Malmö International Holocaust Remembrance Forum, 13 October 2021
keywords: אנטישמיות, הכחשת שואהת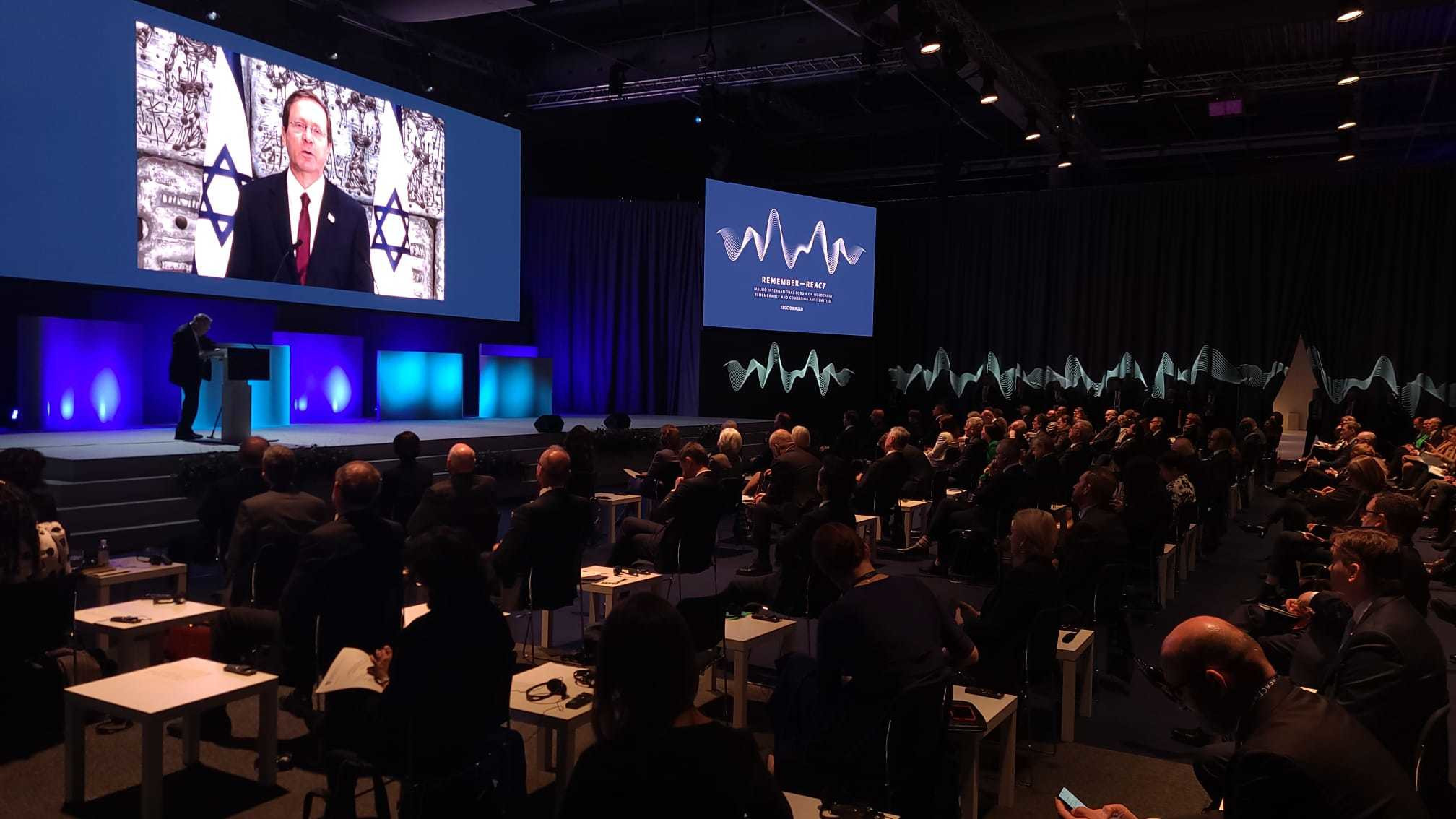 Dear friends, I am honored to address you from the President's home in Jerusalem, to address this Malmö International Forum on Holocaust Remembrance and Combatting Antisemitism, in what I hope and believe will be a historic milestone in the fight against antisemitism and hate. And I thank you President Michel for your outstanding work.
Prime Minister Löfven, my good friend, your leadership in combatting antisemitism is a tribute to your moral integrity. I wish you well, dear Stefan, in all of your future endeavors. I am also pleased that my good friend Nachman Shai, Israel's Minister for World Jewry is representing the Israeli Government in this very distinguished Forum.
I vividly recall myself over twenty years ago, when former Prime Minister of Sweden Göran Persson, launched the Stockholm Declaration and established the International Holocaust Remembrance Alliance.
At that time, I was the Cabinet Secretary of the Government of Israel and we all knew and understood that this was a historic moment.
Holocaust remembrance, what a great term for the most painful chapter in humankind's history. And as ages and generations change, we understand that this challenge is becoming more and more difficult, because you no longer have eyewitnesses, or they are slowly fading, and of course because of fake news and lies that at times distort the memory and lessons of the Holocaust. And I say this also as the son of a liberator of the Bergen Belsen concentration camp who later became himself the President of Israel.
Of course, we also are witness to the illuminating accomplishments in Holocaust memory over the past two decades since the establishment of the IHRA. The IHRA has become a widely-accepted reference point in the fight against antisemitism and Holocaust denial, with over thirty countries having adopted the IHRA definition of antisemitism, and I call upon all nations to do so.
Just days ago, the European Commission presented its first-ever "Strategy on combating antisemitism and fostering Jewish life" in Europe, and we have seen numerous countries take important steps to counter this age-old hate, including Ukraine, whose parliament last week passed very significant legislation against antisemitism, which was signed by its president. Over three dozen countries condemned the recent UN commemoration of the 2001 Durban Conference, which deteriorated into a festival of Jew-hatred.
I commend each of these countries' leaders for their courageous moral stand and growing commitment to combat all forms of modern antisemitism. As a true believer in democracy and as former head of the Israeli Parliamentary Opposition in the Knesset, I not only support but insist on the right of any citizen or group to criticize any government for its policies. But when criticism of a particular Israeli policy mutates into questioning Israel's very right to exist—this is not diplomacy, this is demonization and antisemitism, because Israel is the nation-state of the Jewish People.
So while we can be happy or pleased, and acknowledge the achievements so far, we must admit that there are new challenges. Not on behalf of the Jewish people, but on behalf of any civilized nation, whose people can recognize the humanity in their fellow men and women. Antisemitism is an infusion of hate into pockets of ignorance, a force of destruction which wears down any virtue in its path. A virus. Distinguished members of this forum, the virus of antisemitism unfortunately continues to spread. Antisemitic incidents are rising throughout Europe, but also in North America, Latin America, South Africa, Australia and so forth.
Last week I participated in a historic ceremony, which was mentioned by my predecessors in Ukraine, alongside President of Ukraine Volodymyr Zelensky and German President Frank-Walter Steinmeier, marking the 80th anniversary of the horrible massacre at Babi Yar. A frightful reminder of what antisemitism can lead to.
How can we stand by when, once again, 80 years later, Jews do not feel safe in Europe? How can we all allow this? We have witnessed thousands of antisemitic assaults, vandalism and threats, from extremists all over, including in Malmö.
This rise in antisemitic attacks on the streets, the physical attacks and assaults and verbal assaults, offensive articles and increasing intimidation on the web have been fueled, in large part, by the explosion of antisemitic incitement online. Because hate that begins online, never remains online. We are also seeing a rise in Holocaust denial, coupled with a decrease in the most basic knowledge of the Nazi genocide.
The urgency of this crisis is therefore very clear. Because the challenges before us are great, our goals and aspirations in meeting them must be even greater. Over the coming years, we must aim to correct course, and we must create sincere and lasting change. Such change will require unprecedented cooperation and best practice sharing, between all stakeholders. It will require legislation, it will require litigation and adjudication and law enforcement. It will require not only improving Holocaust education in schools, such as the outstanding program at Yad Vashem, but also working aggressively on social media, including with and confronting social media companies to ensure that hateful incitement is promptly removed.
And we must continue to promote the adoption of the IHRA definition, provide Jewish institutions with physical security, and insist that any form of antisemitism is simply unacceptable.
There are no excuses for hate. The path we set today is critical, for the future of European Jews and communities, and for the future of Europe as a modern, tolerant society. Jews must be free to live full, open and proud Jewish lives wherever they are without any harassment. They must be safe like anybody else in their city, town or village.
Once again thank you all, Prime Minister Löfven and the Government of Sweden, and each government and organization which is represented here today, for your commitment to remember and react against antisemitism and Holocaust denial. I share your vision, and I share your determination. Stay safe, thank you all. Shalom to you all from Jerusalem!